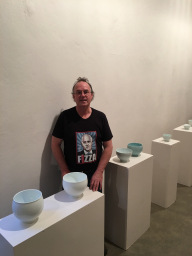 Hi everyone!
皆様、お元気でしょうか?🌻✨
We have received some exciting news from Steve-san‼️
実は、陶芸家のスティーブさんから、驚くばかりの❗️メッセージを頂きました。
Steve and Janine have been invited to go to Korea to take part in an international porcelain conference!!
なんと!スティーブとジェニーさんが韓国で開かれる国際陶芸会議に招待されたのです!アメイジング!!💐✨です。
会議では、研究発表(?)とデモンストレーション等をされるそうです。
その会議には、もう、世界各国の陶芸家が集まります。もちろん日本, 中国そしてヨーロッパの陶芸家たちです。
そして、オーストラリアでは、凄い!スティーブさん、だけが招待されました。
それで、その機会に日本を訪れてくれると‼️
皆様、スティーブさんとジェニーさんと、このまたとないチャンスに、ぜひぜひ、ご一緒しませんか?心より、皆様のご一報をお待ちいたします。
He will present a paper to the conference and also do some sort of demonstration.
There will be porcelain potters there from all over the world including Japan, China and Europe. He is the only one from Australia. And they will come down to Arita!!
If anyone who would love to see them, please let me know. Can't wait !!
Dr. Steve Harrison PhD. MA (Hons)
hotnsticky@ozemail.com.au
blog; tonightmyfingerssmellofgarlic.com
http://www.wattersgallery.com/artists/HARRISON/Harrison.html
Potter, kiln surgeon, clay doctor, wood butcher and Post Modern Peasant.